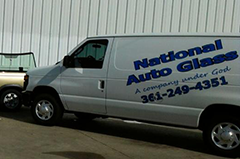 Our fully equipped mobile fleet is ready to service all your needs. We'll even go to your home or job site so you can continue with your daily business.
For mobile on-site auto glass replacement or repairs, call us at 361-249-4351.
Mobile Auto Glass Service
National Auto Glass offers high-quality auto glass repair and auto glass replacement mobile service. Our mobile service clients have come to depend on our highly trained technicians to repair or replace chipped or cracked vehicle windows quickly, skillfully, and at affordable prices.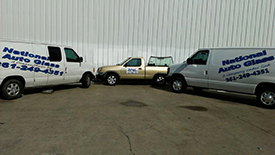 National Auto Glass strives to ensure that your auto glass replacement experience is convenient and hassle free as possible. One of the services that we offer at no additional charge is mobile service. Simply call and we will come to your place of business, home, or wherever it is to complete the repair work. Our mobile on-site service option is always free to you.
National Auto Glass Free Mobile Service
When you call us to schedule your auto glass repair work, a friendly customer service representative will ask you to identify the day of the week and time of the day which works best with your schedule. We can usually narrow our arrival time to a two to three hour window on any given day. In most cases we can schedule your auto glass installation within a day or two of your call. We will always do our best to accommodate your needs. We understand that life can get hectic and want your experience with us to be as stress free and easy as possible.
One of our technicians can meet you at your home or place of business. In many cases our customers will ask us to come to their workplace to install their damaged auto glass. We will take it from there! Most windshield replacements take less than an hour and you'll need to let the car sit for about 90 minutes after the work is completed. If there is anything we can do to make your experience easier, please don't hesitate to ask. Call us today.